Efficiently connecting everyone within one platform.
In minutes, you can begin boosting your search for the right job!
Find out which jobs fit best with your personality, interests, skills and experience, and use your Jobtimize™ profile to search and apply for jobs within our live database or through integrated job boards (such as Indeed).
The Person Behind the Resume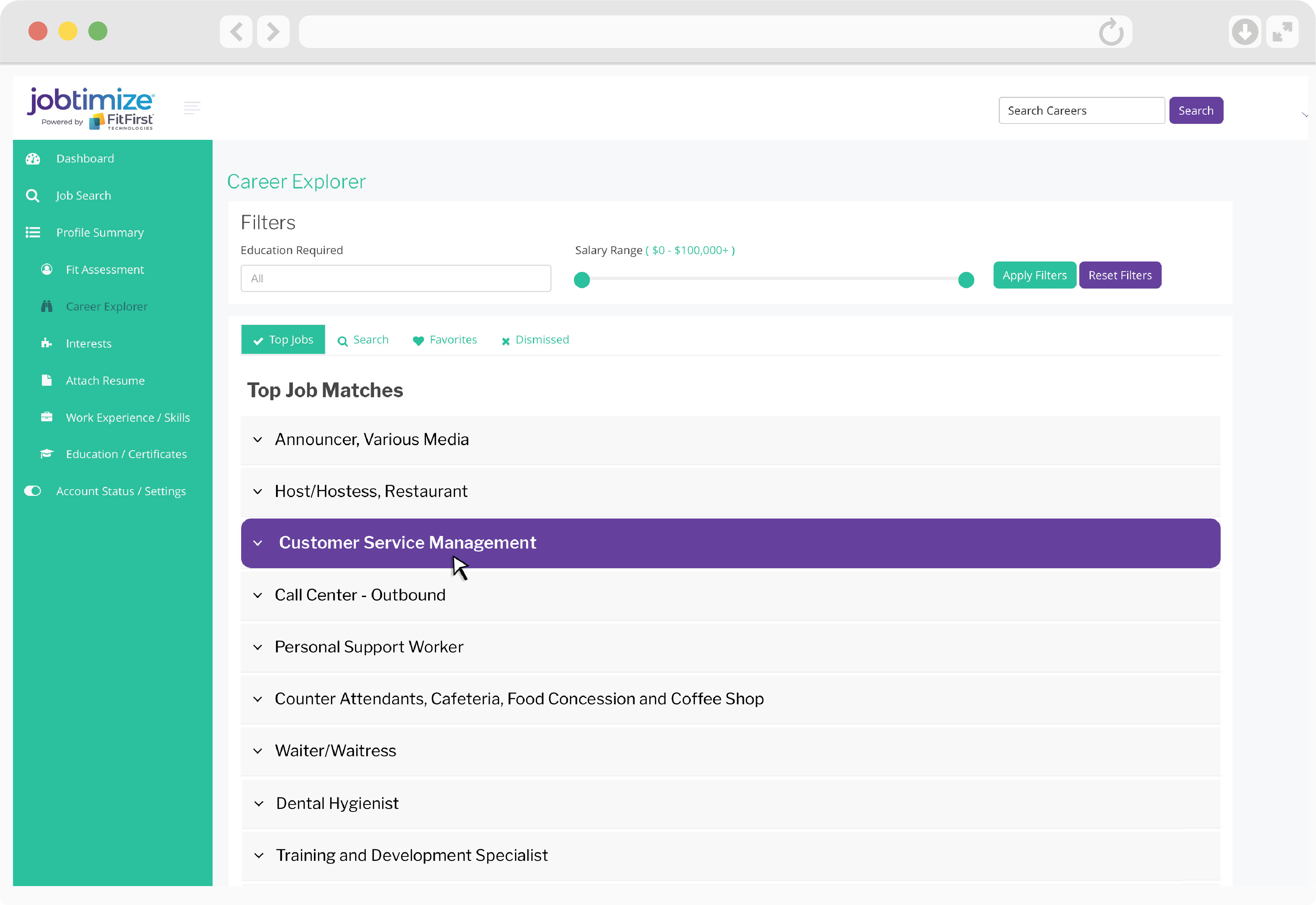 Know Your Path!
Jobtimize is the perfect roadmap for better course or internship choices, apprenticeship planning, and a more targeted job hunt after graduation.
The Person Behind the Resume
Our first focus is on understanding which occupations are most compatible with YOU, and then we combine that with the other pieces (such as skills and education) to complete your profile and reveal your full employment potential.
Real Outcomes
There are a lot of job fit apps out there that waste your time with quick questionnaires and one-size-fits-all answers, but Jobtimize is different.
No other app uses our sophisticated data points and AI to assess and uncover a person's core behavioral traits, attitudes and standards, all of which contribute highly towards your compatible 'fit' with a job and your real-world success as an employee.
The Full Career Puzzle
Jobtimize then pairs your assessment data with your interests, skills and experience in the Jobtimize Career Explorer to reveal your best job matches in today's workforce. And you never know, Jobtimize might reveal some surprising matches that you haven't considered yet!
Jobseekers, ready to sign-up?
Are you an Employer?
Are you a Career Advisor?
"Wow, all the jobs it suggested are totally me!"
"…At the interview, we already know how well an applicant will fit with the job and that allows us to focus on the additional knowledge, skills and abilities they possess in order to become a successful member of the City of Moore team."
"…the assessment results have been a key factor in my successful hiring decisions."